Moving Day is upon you!
Or, we assume it might be since you're here.
Moving Day is an exciting day, full of lots of moving parts (literally), which can be stressful. Thankfully, because you're here, Furner Realty Group is here to help you! Use this list with quick tips to help ensure a safe, productive, and stress-free moving day experience!
1. Defrost Your Fridge
If you plan to take your fridge/freezer with you, then it's important to allow at least 24 hours prior to moving day for it to defrost. If you do not defrost your fridge/freezer before moving, then be aware of these two very important things…
Your fridge/freezer naturally has a build-up of ice which helps to keep the inside of your unit cold. This build-up adds significant weight, making it much harder to move when the time comes.
Once your unit has been unplugged it will begin thawing. You wouldn't want this to leak onto your couch, would you?
We suggest moving all perishable items into a cooler with ice, items like meat, cheese, milk, etc., or moving these items into a secondary fridge that can be packed on moving day and unplugging your unit at least 24 hours in advance of moving day.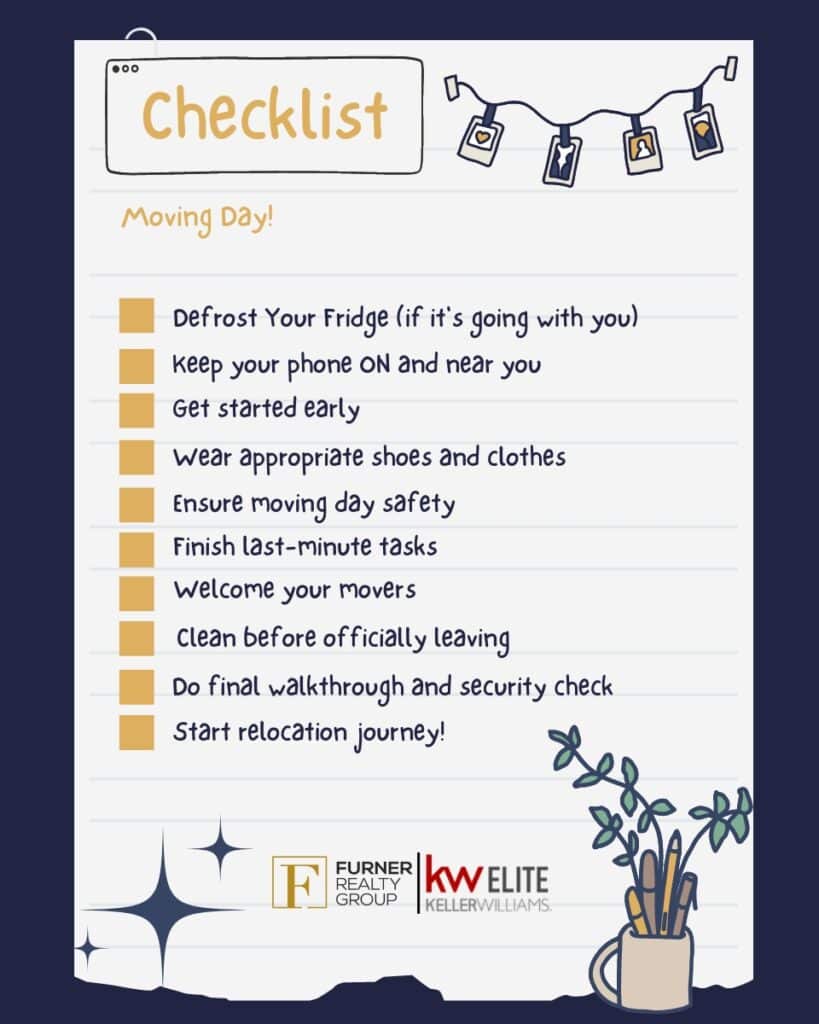 2. Keep Your Phone ON and Near You
On moving day, be sure that your phone is with you at all times. Keep it charged and operational, just in case your moving company needs to get a hold of you, your Realtor calls to see how things are going, or your significant other tries to call you with a question from the second floor – Hey, it happens!
3. Get Started Early
Getting an early start on moving day means that you'll be in your new home sooner and be able to spend the evening relaxing, or unpacking! Be sure to get a good night's rest, and then start your day as early as you can. Remember to take a deep breath and do everything you can to maintain your composure during one of life's most stressful and unpredictable days.
4. Wear Appropriate Shoes and Clothes
You'll be doing a lot of flexing, lifting, and walking on this day. Make sure that you wear clothes that won't restrict your movement, while also wearing closed-toed shoes that are comfortable and offer great foot support.
5. Ensure Moving Day Safety
Moving day can be dangerous. There are a lot of large and heavy items being moved, along with boxes loaded with fragile items. Make sure that any pets or small children are out of the way and that you have the right kind of moving equipment to help you lift or leverage large, heavy items (that's if you didn't hire a moving company). If you didn't hire a moving company, make sure to take adequate breaks throughout the day. General fatigue and tiredness can lead to accidents and we wouldn't want that on our watch!
6. Finish Last-Minute Tasks
Ideally, you won't have last-minute tasks that will need to be done the morning of Moving Day. However, if you do have any unfinished jobs, make sure to get them done as soon as you can and as early as you can. These tasks might include packing up morning-of essentials, picking up rented moving equipment, or dropping the kids off at a friend, family, or neighbor's house so that they are out of your way.
7. Welcome Your Moving Party
Whether you booked a moving company, or have friends coming to help, welcome your helpers inside, show them around your home and point out any odd items that will require special care and attention to move. Make sure to show your guests where the bathrooms are (if they haven't been to your home before) and if you left out any snacks or drinks for them to enjoy while they help you move.
8. Clean Before Officially Leaving
There is nothing that reflects a well-cared-for home than one that is clean! Before officially closing the door and moving out, make sure to clean the home – wipe down counters, sweep the floors, make sure the mirrors are smudge-free, and that each room is as it should be for the next owners!
9. Do a Final Security Sweep
Take a final walk around your home to make sure that everything looks okay, and that nothing (or no one) is left behind – check closets, crawl spaces, storage areas, etc. Double-check that all windows and exterior doors are properly closed and locked and that all electric, water, and gas supplies are switched off before you leave. The new owners will turn necessities back on upon their move-in day.
10. Start Your Relocation Journey
As they say, when one door closes another opens (literally). Moving Day is an exciting and stressful day, but the best part of the journey is when you get the keys to your brand-new home and get to begin moving in! Say goodbye to your old home and have a safe journey to your next!
When it comes time to make your next move, we hope that you find Furner Realty Group to be your go-to resource for all of your home homes. Contact us and let's get started on your journey to your next home.