Buying a home is arguably one of the most expensive and important purchases that you'll make in your life. Home inspections are a vital part of this process, helping to ensure the value and safety of your financial investment. A general home inspection will cost you, but the simple cost of an inspection will help you to identify potential problems with the home prior to closing, and may ultimately help you save hundreds, if not thousands, in the long run. Here are 5 questions to ask your Home Inspector on the day of your home inspection to help you get the most value of out the money spent.
1. What condition is the home in?
This seems like an obvious question, right? While your inspection report will give you an idea of the general health of the home, it's great to ask your inspector directly. They will provide you with more valuable insight and specifics on what it is that they are seeing. If you're a first-time home buyer, your inspector may even provide you with valuable advice regarding their report.
2. How do we fix that?
The job of your Inspector is to identify potential problems or risks inside and outside of your home. They may even advise you on areas of the home that require immediate attention, such as a leaking roof. While your inspector is at the home, ask them how to fix certain problems or appliances that you are unfamiliar with. Your inspector may even provide you with contact information for a representative or repairman who will be able to help you with future work.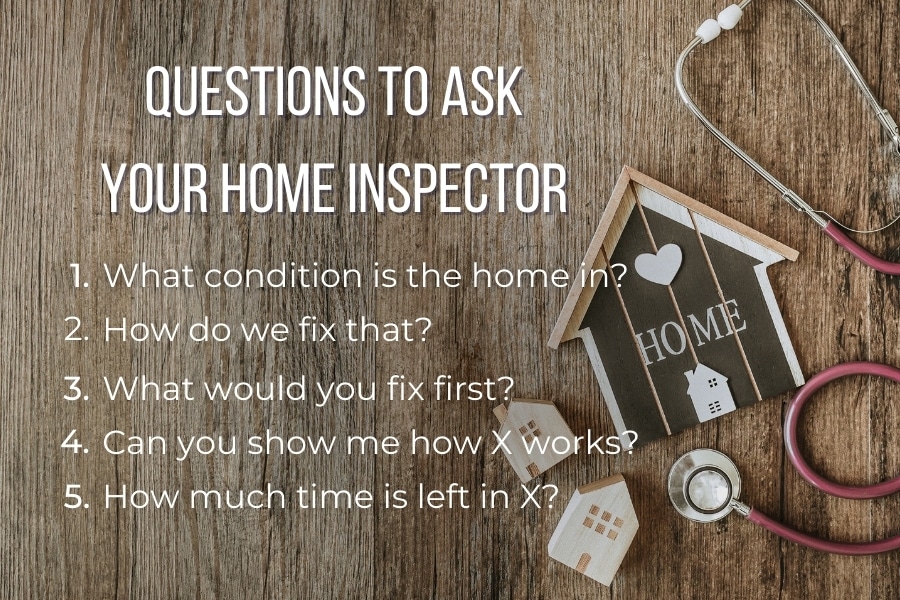 3. What would you fix first?
Home Inspectors are experts at what they do. They are great at identifying areas of concern and are often knowledgeable about the general costs of repairs and replacements. By asking your Inspector what they would repair or replace first, you are able to gauge an idea of the items that may cause the greatest risk or cost down the road – For example, a leaking roof could result in a MAJOR repair if not addressed as soon as it is caught. Your inspector would be able to advise you on this if speaking to them directly.
4. Can you show me how X works or how to maintain this?
Because the job of a home inspector requires that they check that mechanicals and appliances work, they are often very knowledgeable about the parts of your home and how to maintain them. For this reason, this is a great opportunity to learn about the general workings of or how to care for mechanicals of your home that you may not know about, such as HVAC systems or a hot water tank.
5. How much time is left in X?
As stated above, your Inspector is an expert on how things in your home operate and will be able to provide an estimate of the longevity of those items. If your Inspectors does not outright tell you, ask them for their expert opinion on the lifetime left of major items in your home – this could include the roof, kitchen appliances, plumbing, HVAC systems, etc.
Now that you know the questions to ask your home inspector, it's time that we put those into action! If you're thinking about buying a home, but are worried about the risks of future costs, let's meet and talk about how Furner Realty Group can help you to feel comfortable making your next move.
For more information regarding Home Inspections, costs, and what to expect check out our VIP home inspection company's website and blog!