As the winter months begin to settle behind us and with the days lengthening and warmer weather approaching, Spring becomes the perfect time to reset with a fresh, clean home. We thought of the best spaces in your home and the kind of attention they may require for a Spring reset. Here's a look at where to start and what to check off your Spring cleaning list first.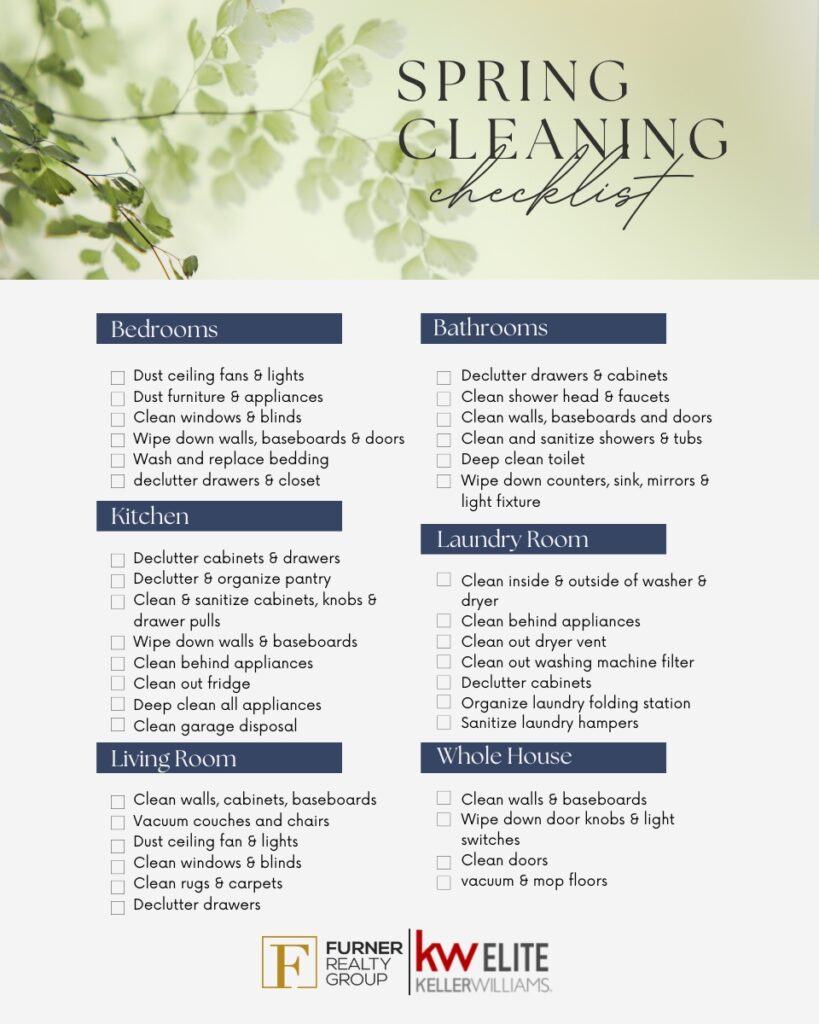 Bedrooms
For many, the bedroom is their sanctuary. It's where we go to decompress and rest after a long, busy day. A clean bedroom is vital to a good night of rest and a peaceful new morning. Start by cleaning ceiling fans and any light fixtures in your room, next move to dusting your furniture, including tabletops and misc. decor, start wrapping up your bedroom by wiping down walls, baseboards, doors (and knobs) and clean your windows. Once finished, we suggest cleaning your bedding, replacing it or returning it to your space once dry.
2. Kitchen
Many say that the kitchen is the heart of the home, which is why it's near the top of our list of importance for Spring cleaning. Begin checking off your cleaning list by decluttering this space, and cleaning out cabinets, drawers, and any nooks you may have in your kitchen. Complete cleaning your kitchen by cleaning your garbage disposal and removing any trash.
3. Living Room
Our living rooms tend to be the place where we spend a lot of time mingling and interacting with one another. We suggest beginning cleaning your living room by wiping down walls, baseboards, doors, and any windows in this space. Use a damp cloth with some soap and water, or use your favorite multi-surface cleaner to help you get started.
4. Bathrooms
The most dreaded room to clean, because who really wants to clean a toilet? *insert cringe here*
Begin cleaning your bathrooms by decluttering the space, put all unessential tools, hairbrushes, and supplies away or in a reserved space to free up your countertops, drawers, and cabinets. Make sure to use a sanitizing solution to wipe down all surfaces, including the shower, faucets, toilet, and countertops. For a list of highly recommended sanitizing solutions to use, check out this NYTimes article: CLICK HERE.
5. Laundry Room
The Laundry room is often the most underrated room for cleaning. However, did you know that you should routinely clean your washer? Most washers have a filtration system that can collect grim over time. Start your routine here by cleaning the inside and outside of your washer and dryer – check out these tips from Tide to clean your washing machine. Complete your cleaning checklist here by sanitizing your laundry hampers.
6. Whole house
You didn't think we were going to overlook your home as a whole, did you? There are only a few routine cleaning tips that you should complete in every room of your home, such as vacuuming and mopping all floors, sanitizing all knobs, drawer pulls, and light switches, wiping down doors, and wiping down all walls and baseboards. Doing these 4 essential cleaning tricks will make your home feel Spring ready for 2023.
Every home requires routine maintenance and cleaning. Tackling the big stuff seasonally helps you to not feel overwhelmed or overworked when it comes to the cleanliness of your home. We hope that this list helps you to tackle the big stuff and remember the small stuff so that your home is ready for Spring 2023.
For More Home organizing and clean tips, check out our "Organizing Your Life" Pinterest Board